Who's the creator of this page?
[one_half padding="0 15px 0 0″]
My name is Alex Hafezi and I'm the creator of this website. With my band "Macanto" I'm quite active in event/live music. "Relaxing Music" is our second project, where we follow a completely different musical goal – Meditation Music. It's exactly this vast mix of different styles that we love as musicians!
[/one_half]
[one_half_last]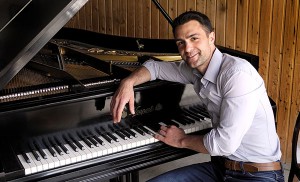 [/one_half_last]
Who am I? I started with music quite early. With 12 I discovered the piano and with 20 I started studying media design.
When I was around 24, the unconsciousness, the human brain and it's billion possibilities and secrets started to fascinate me. The reason for this might have been that I was also "searching myself" at that time. At some point, I'm still searching today, but that's another issue 🙂
It came out that I have a talent in motivating people and getting to the important points quickly. After a period of learning different methods like Hypnotherapy or NLP, I started to organize seminars about psychological issues in my own company.
I've been searching for ways to connect my musicality with the mental techniques I have learned. One of the results is this website. I want to share my passion for music with everyone – and maybe I have some valuable information for you – that's my goal.
All the music of my band Macanto is being produced in our studio, same as the Relaxing Music on this website. My fellow musicians and me – we're good friends, too – are always attaching importance to making something extraordinary, something with love and devotion. In our industrial world, some of our music has also become "industrial" to some point. Let's find back to our nature – and to a natural sound – together.
Best wishes to you
Alex